O'Dowd critical of Gove move on GCSEs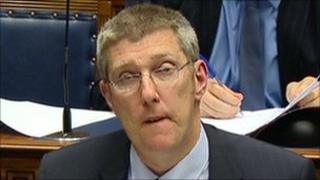 The Northern Ireland Education Minister John O'Dowd has said the Education Secretary Michael Gove may have "fatally flawed" the GCSE brand.
On Monday, Mr Gove said the GCSE exam in England was going to be replaced by a qualification called the English Baccalaureate Certificate.
Mr O'Dowd said he was disappointed the "devolved administrations" had not been consulted in advance.
He said he would publish his own proposals in the near future.
"Michael Gove has not proven that the GCSE exams were not rigorous," he said.
"Michael Gove's comments today and his policy since he came into office may well have fatally flawed the GCSE brand.
"I don't want to see our young people feeling that they are sitting a lesser exam."
Mr O'Dowd said he would take consultations on the matter and added that a "rushed decision" would not help anyone.
"Whatever exam system we end up with, whatever the title of it is, it will be robust and rigorous," he added.
A shake-up of the exam system in England, unveiled by Education Secretary Michael Gove, will mean a single end-of-course exam and one exam board for core subjects.
Pupils beginning secondary school this year will take the first new exams - in English, maths and sciences - in 2017.
Mr Gove told MPs that GCSEs had been designed "for a different age and a different world".
The education secretary said the changes would modernise the exam system "so we can have truly rigorous exams, competitive with the best in the world, and making opportunity more equal for every child".