Ulster Covenant parade 'to play hymns' at church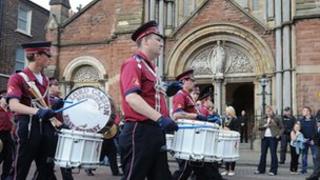 The Orange Order has said bands taking part in an Ulster Covenant parade will play hymns when passing a Catholic Church where trouble flared last month.
The decision follows talks with clergy and parishioners of St Patrick's Church in north Belfast and community leaders.
Last month, bands defied a ruling banning music at the church. In the subsequent riots, seven police officers were injured.
The Parades Commission have yet to make a ruling.
The 29 September parade marks the 100th anniversary of the signing of the Ulster Covenant in opposition to home rule in Ireland.
The Parades Commission had placed restrictions on the 25 August march following events on 12 July, when a loyalist band was perceived to have played a sectarian song outside the church.
'Frank conversations'
However, that band defied the commission's determination, and other bands, which were restricted to playing a single drum beat, also breached the ruling.
The Institution later apologised.
In a statement on Monday, the Orange Order said: "Sadly there has been an unhealthy focus on the parade at a point were no previous contention existed; St Patrick's Roman Catholic Chapel in Donegall Street.
"Occurrences at St Patrick's on 12 July and the 'Last Saturday' have already been the subject of statements clarifying that for any inadvertent offence caused, no hurt was intended. "
It added that quiet, frank and constructive conversations had taken place with the clergy and parishioners.
The statement said that in a "respectful and sincere effort" to address what they heard and following further conversations with bands, political leaders and local representatives, the Ulster Covenant centenary parade would play hymns when passing St Patrick's Church.
"The return parade in the early evening will show similar respect," it added.
Sinn Fein's Gerry Kelly said the Orange Order statement was "not sufficient".
Mr Kelly said the Order should enter "direct dialogue" with residents in nearby Carrick Hill if it wanted to find a resolution to the dispute in the area.
However, the grand chaplain of the Orange Order in Belfast, Mervyn Gibson, said the Order does not believe a meeting with residents was necessary.