Mark Henry Dane accused of biting woman's nose in city attack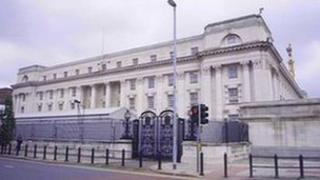 A man allegedly locked his teeth onto a woman's face for up to 40 seconds when she tried to stop him boarding a bus in Belfast city centre, the High Court has heard.
The 36-year-old victim was attacked at a bus stop on 28 August.
Mark Henry Dane, 30, of Rosslea Way, Newtownabbey, faces a charge of attempting to cause grievous bodily harm with intent.
Prosecutors said the victim feared her nose was going to be bitten off.
They said she had tried to intervene in a separate altercation.
The woman was also beaten around the head with a bag of beer tins and kicked about the face in front of onlookers.
Police were alerted to the incident at a bus stop outside Central Library on Royal Avenue by CCTV operators.
Footage showed the victim struggling with a man she had tried to prevent from getting onto a bus.
Prosecution lawyer, Conor Maguire, claimed the attacker could be seen repeatedly hitting her across the face with a Tesco bag containing beer tins.
Mr Dane, who is a former civil servant, was arrested close to the scene.
Heard crack
The injured woman was taken to the Royal Victoria Hospital where four staples were inserted in her nose.
X-rays of her head were delayed because it was so swollen.
She subsequently claimed to have witnessed Mr Dane assault another man with a bottle in a park near the bus stop.
The woman told police she attempted to apprehend him before he could get on the bus, allegedly provoking the attack on her.
In her statement, read out in court, she said: "This male latched onto my nose and I heard a crack."
Mr Maguire continued: "She said she felt as if her nose was going to be bitten off, so she tried not to struggle."
At one stage the judge, Mr Justice Weir, asked if any others gathered at the scene "did anything useful".
Mr Maguire replied: "No. Nobody else interfered."
Defence counsel Michael Ward disputed claims that it was an unprovoked attack and said the victim and his client knew each other.
"He would say the extended CCTV footage will show her approaching him in what he would say is an aggressive manner, attempting to incite a physical argument with him," Mr Ward said.
The barrister acknowledged that subsequent alleged actions by his client could not be regarded as proportionate.
"It was, albeit at a later stage, accepted that his actions went far beyond what one would expect in the circumstances," he said.
He added that in the past five years Mr Dane's life had "descended into chaos fuelled by alcohol".
But refusing his application for bail, Mr Justice Weir said: "This was an outrageous response to whatever had occurred between these two people at the bus stop."