Boston College tapes: 'writer under no increased threat'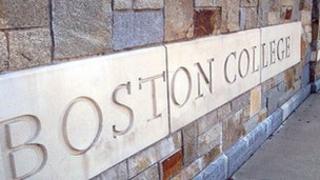 Writer Anthony McIntyre is under no increased threat from police attempts to obtain his interviews with a convicted bomber, the High Court in Belfast has heard.
PSNI lawyers claimed a risk assessment was negative.
Police are seeking access to all recordings Mr McIntyre carried out with Old Bailey bomber Dolours Price.
They are investigating the 1972 murder of Jean McConville, one of the so-called disappeared.
Mr McIntyre interviewed Price for a history project at Boston College in the United States.
Risk
He is challenging the legal bid to obtain the transcripts, claiming it will put his life in danger.
But Peter Coll, counsel for the PSNI, argued that releasing the material would not increase the threat to Mr McIntyre.
He said: "Is there any evidence to demonstrate it could result in an Article 2 (of the European Convention on Human Rights) risk to his life?
"His cupboard is threadbare evidentially."
Loyalist and republican paramilitaries gave interviews to Mr McIntyre and journalist Ed Moloney for the college's Belfast Project, an examination of the conflict in Northern Ireland.
Those who took part included Price, who was jailed for her part in a bomb attack on the Old Bailey in London in 1973 that injured more than 200 people.
Recordings were carried out on the understanding that they would only be made public once interviewees had died.
However, the US courts have ruled that the Price interviews should be handed over to the PSNI.
Mr McIntyre's barrister, David Scoffield QC, disputed suggestions that his client would not be in danger because the decision to disclose out of his control.
"There will be those who say 'You were instrumental in coaxing out of former comrades things that would otherwise they would otherwise not have said and you made that available to the PSNI'," he said.
But Mr Coll countered that a review of the threat status against Mr McIntyre in July had come back negative.
He identified only one incident which coincided with Mr Moloney's book Voices From The Grave, based on interviews with other ex-paramilitaries for the same project.
"The day Mr Moloney's book was published a neighbour (of Mr McIntyre) had excrement sprayed over his car and into his house," the barrister said.
"That is not to minimise how horrendous that is, but we say it falls very, very far short of establishing the high threshold of risk required under Article 2."
Serious
It was also set out in the hearing how Mr Moloney has claimed that his research colleague's interviews with Price contain nothing relevant to the Jean McConville murder investigation.
Mr Justice Treacy said this appeared to be "at odds" with the view taken by an American judge who reviewed the material and concluded it should be handed over.
He ordered Mr McIntyre, who attended court with his wife Carrie, to file a sworn affidavit by Monday in an attempt to clarify the position.
The judge stressed: "It would be incumbent on Mr McIntyre, if he knew otherwise, in the discharge of his duty of candour to the court, to indicate whether that averment by Mr Moloney was correct or not.
"If it wasn't correct and he knew if wasn't correct and he didn't take the opportunity to make it clear to the court that would be a serious matter not only for him but for Mr Moloney if it turned out not to be so."
The judicial review hearing was adjourned until next week.
A temporary injunction restraining the PSNI from taking possession of the interviews remains in place pending the outcome of the case.