Homeless fears for young people at closure of Lurgan Foyer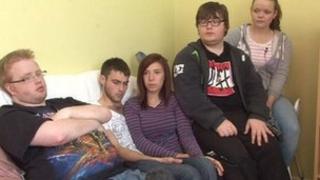 Twelve young people living in supported accommodation in Lurgan, County Armagh, have said they are at risk of becoming homeless.
It follows a decision by the Housing Executive to remove funding from the project, known as Lurgan Foyer.
It has provided semi-independent living for homeless and vulnerable young people for more than a decade.
Residents were told last month it would be closing within weeks. Eleven staff will also be made redundant.
Leah Doherty, 19, was left homeless following the break-up of a relationship earlier this year.
"I had nowhere else to go and I moved in here and my confidence was so low I felt like I had nobody to turn to and they've done so much for me - they've taught me how to clean and cook and just build my confidence up again," she said.
"I feel I've come on leaps and bounds and they've done so much for me. The staff have been amazing."
The Lurgan Foyer is managed by the charity Shankill Community Projects.
The centre has helped scores of young people, aged 16 and 24, by providing a safe and secure home and a chance to start over.
Liam Donnelly has autism and found he couldn't continue living at home.
For four years the Lurgan Foyer, known locally as Mount Zion, became his home.
"Without them I wouldn't have been to able sort things out with my family and be able to live my life," he said.
Special
"Getting out of the house for some young people can help them make their relationship better with their family than it is when they're living in it.
"This place just means so much to everybody."
The project's primary funder is the Housing Executive through its supporting people scheme.
In August, it announced that the funding was coming to an end.
This left the charity with no choice but to close.
Elizabeth Sousa, who lives in Lurgan Foyer, said there was a "big lack of understanding" from those on the outside.
"People don't see us as homeless, they just see us as young people who don't behave well, or this, that or the other, but most of us do have problems, mental problems, or health problems or whatever and we do need support and we need to learn how to be independent and grow ourselves," she said.
The Housing Executive has vowed to find alternative accommodation for all the residents.
But many of the young people, including Elizabeth, fear their option will be a "hostel or nothing".
"Here it is only people aged from 16 to 25 and it's supported accommodation which you have the ability to grow and be independent and have support from staff," she said.
"In a hostel you're just put in a room with other people and you have to be back at a certain time, you don't get to learn how to be independent, you just kind of follow the crowd."
Leah has recently started a job and she fears the closure could put it at risk because the hostel would be in Armagh.
"It just not right, for someone to have to give up their job, just to have a roof over their head, it just isn't fair, it's our human right to have a roof over our heads, it's not right that we're being treated like this and given such little notice," she said.
She said she was scared about the future.
"I can't see how they're going to let 12 young people be homeless, very vulnerable young people as well, that's why we're here. They're meant to be looking after us," she added.
In a statement the charity which manages the home expressed its profound regret at loss of unique service but said without funding they were left with no option.
The home will close before the end of September.