FG Wilson move 'not surprising' says Invest NI head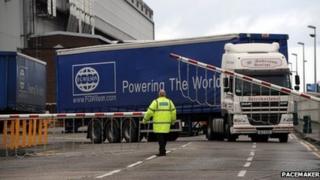 The chief executive of Invest NI has said he is disappointed but not surprised at the job losses at FG Wilson.
Alastair Hamilton also said that had he been in charge of the company he would have made the same decision.
On Thursday, FG Wilson announced it was paying off 760 staff and moving some of its work to China. A further 160 job cuts were announced in July.
Over the past five years the company has received £1m in state funding.
It produces diesel generator units.
Mr Hamilton told BBC Radio Ulster's Nolan Show he understands why the decision was made.
"The things that are driving this decision are the reduction of demand in the eurozone, the increase in demand in the far east.
"We're shocked at the numbers, but not about the trend. The trend is there right across the board," he said.
"If I was running that organisation and accountable to shareholders the way they are to do the job they've got to do, then absolutely, around that boardtable as a businessman I can tell you people will be looking at 'what are the dynamics of our market?'
"Caterpillar were bringing components for these generators in from China, they were assembling and putting other pieces of them in in Northern Ireland, then shipping them back to China."
When asked if he would have made the same decision to move some of the manufacturing to China he said: "If I was in that job, in all possibility, yes."
'Sheer devastation'
Meanwhile, the former chair of Larne Traders Forum has described the job losses at FG Wilson as "sheer devastation" for the town.
The largest losses will be in Larne and David Hunter said the town was still reeling from the announcement.
Mr Hunter is also chief executive of a social enterprise firm which helps the long-term unemployed, especially those with disabilities, get back into work.
He said the job losses would swell local unemployment numbers, making things more difficult generally.
"I think if this had been 76 job losses announced yesterday it would have been bad enough news," Mr Hunter said.
"But 760 job losses, together with the 160 announced earlier this year - we are staring down the barrel of about 1,000 potential job losses here. It's sheer devastation."
The chief executive of Larne Borough Council Geraldine McGahey criticised what she said was a lack of communication from FG Wilson about the job losses.
"We at this minute in time really don't know how many of those jobs are going to be lost in Larne, we don't know the skill sets that are going to be impacted, we don't know what kind of jobs we should be seeking to actually replace those," she said.
"We need communication to organise that.
"I think it's very important that my councillors, for example, know what's going on and can make informed statements, nothing that's going to damage the long-term sustainability of the company, but still seen to be supportive of their constituents.
"I think it's regrettable that that hasn't happened this time."
FG Wilson currently employs more than 3,000 people. It is one of NI's biggest manufacturers and has four plants in Northern Ireland - in Larne, Monkstown and two in west Belfast.
West Belfast MP Paul Maskey also said FG Wilson should do more to clarify what jobs are being lost.
"The big problem is getting information from FG Wilson - it's been very poor - getting information from anybody indeed with regards to the numbers," he said.
"It's absolutely shocking and I don't think it's good enough, I don't think it's acceptable most of all for the employees and their families.
"They're still at the stage where they're not sure if it's them or somebody else in another plant."
It is feared hundreds more jobs will go at the company by the end of 2014.
Caterpillar, which owns FG Wilson, is blaming a slowdown in the global demand for its diesel generator sets for the job cuts.
It is also moving production of approximately 70% of its small generator sets to China, a move to be completed by early 2014.