South Belfast landlords criticise student fines cost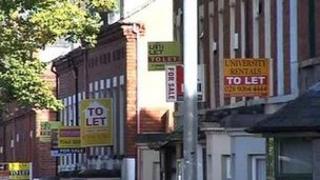 An organisation that represents landlords has criticised the amount of money spent on trying to deal with noisy students in south Belfast.
The Landlords' Association has claimed it costs £100,000 to take in a fine of £100 because of the number of agencies involved.
It added that just two fixed penalty fines had been issued in four years.
Declan Boyle from the association said the money would have been better spent on public services.
"Certainly landlords have their part to play with houses that are out of control - we don't have an issue with that and we do work with councils, and we do work with the universities," Mr Boyle said.
"But some times there can be too many at the table and a smaller working group would be much more efficient.
"I don't believe there's the necessity for universities, for councils, for police - I don't think there's the need for so many agencies.
"The cost of this is phenomenal."