Northern Ireland trusts fail on cancer pledge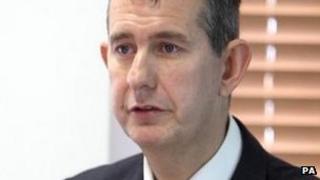 All of Northern Ireland's health trusts are failing to meet basic performance standards which mean cancer patients should start treatment within 62 days.
The Health and Social Care Board says it is meeting the trusts regularly to discuss individual cases.
Last April, the health minister said 95% of people urgently referred with a suspected cancer should begin treatment within 62 days.
However, that is not happening in any of the trusts.
This is particularly the case in Belfast, which according to board figures scored 75% in the last quarter.
The problem has been put down to a lack of operating space.
While some patients are having to wait longer than others for treatment, the BBC understands that regular meetings between the Health Board and the trusts are ensuring that the most serious cases are being prioritised.
John Compton, chief executive of the Health and Social Care Board said the target was chosen as a sensible target for an "end to end journey".
"When you first present with your general practitioner, you have to have a series of tests and assessments to diagnose whether or not you have got cancer and then treatment should commence within the 62 days," he said.
"It's not the only cancer target we have. We have other cancer targets and these are all being met."
Patients
Londonderry-based GP Tom Black said it was an "important target".
"This is patients with a diagnosis of cancer," he said.
"It is so important to get them through the system quickly and get them through definite treatment.
"Sixty-two days, that's nine weeks and that's not a really fast time, but it is really testing the system and it is a target we should pay close attention to and try and achieve a higher number on.
"There is very little money in the system and this will get worse in the next three to five years and that tells us if there is going to be a health care system with less money in it, we should focus our resources on that which is important so we don't want more health care, we want better health care."
Mr Compton said there were about 50 people in Northern Ireland who were outside of the 62 days target.
"We have very large numbers of people who are well inside the 62 days," he said.
"If you move that target up to 80 days, virtually all of the people who would be outside it have been seen and treated.
"There are a small number, eight or 10 people, who are waiting close to 100 days."