BBC reporter takes an Ecar test drive across Northern Ireland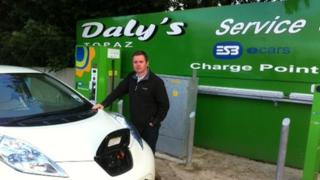 I hadn't intended to spend almost 16 hours on the road in my ecar, it just sort out of ended up that way.
Having left Newry at around 8.30am and arriving in Enniskillen in time for lunch, we looked to be set fair for a long spin up north and home by the Antrim coast. At least that was the plan.
But we were fairly low on juice and our next scheduled stop was the rapid charger at Lifford in County Donegal. It had to be a straight run, so we needed to give the car a healthy boost.
We plugged up at the standard charge point in Enniskillen and went for lunch. But even after leaving it for two-and-a-half hours, it wasn't at full capacity.
We had to make a decision. To risk it, or to wait and watch the day disappear.
We pushed on, but we were chancing the range sailing into Lifford with just 11 miles on the clock.
In case you think that was plenty, bear in mind that they're not real miles, they're virtual miles which can vary depending on how you're driving and whether things like the climate control is on.
My experience so far is that you never have the distance in miles that the range meter suggests.
Reboot
Lifford is where the thing fell apart. The rapid charger wasn't working, neither was the standard one beside it and we were out of electricity. It was 7pm.
Frantic phone calls followed, at one point we considered abandoning the ecar and heading for home in the film crew's vehicle.
It took a remote reboot by an engineer in Dublin to sort it. We were charging, but we were now way behind schedule.
Any notion of a jaunt around the north coast was gone. Instead, we headed for the rapid charger at Glenshane Pass for the last boost of the day, before setting off for Belfast.
We had 40 miles to go with 80 miles on the clock. It was getting cold, but I didn't put the heat on to preserve power, driving in eco mode all the way.
We arrived in Belfast just after 11pm with 21 miles on the range clock.
While my cameraman and producer headed gratefully for home, I plugged the car up to the standard charger in the city centre and waited for an hour to get enough juice for the last 25 miles home.
It had been an incredibly long day. I reached the house around midnight, the battery was exhausted, and so was I.