School uniforms cost unacceptable, says Education Minister John O'Dowd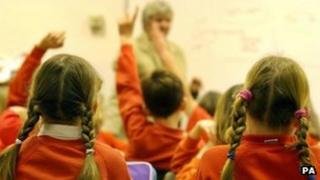 The cost of some school uniforms is unacceptably high, Stormont Education Minister John O'Dowd has said.
"We have sent guidance out to all schools informing boards of governors that when they are designing uniforms, they should take the affordability into account," he said.
Mr O'Dowd told the BBC's Nolan Show his department did not have the authority to legally enforce these guidelines.
Some parents have little choice between available retailers selling uniforms.
Mr O'Dowd said parents of prospective students should raise the issue with schools.
"The cost of certain uniforms at individual schools is totally unacceptable, and they are probably a barrier to some families accessing that school," he said.
"Parents should not have to decide what school their child attends on the basis of whether they can afford the uniform.
"If a number of children are attending the same school, the bills soon mount up for the family."