Vacant Bangor seafront site to house 'art pods'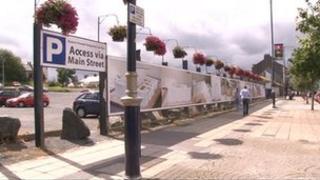 Six 'upmarket' shipping containers are to be placed on the site of a long-delayed £100m redevelopment project in a County Down seaside town.
They will be erected on the vacant site of the planned Queen's Parade development in Bangor.
The containers will house 24 local artists over the next two years, in a £288,000 project.
The Queen's Parade project has been in the pipeline for 20 years but has sufffered a series of setbacks.
It includes a hotel, convention centre, homes, offices and entertainment space.
Most of the funding - £250,000 - for the containers or 'art pods' is from the Department for Social Development (DSD). The rest of the money is from North Down Borough Council.
Social Development Minister Nelson McCausland described it as "a short term project that proposes to make use of the vacant site along Queen's Parade in advance of the major mixed-use scheme proceeding".
The Queen's Parade Dream is being spearheaded by the DSD.
Recently the BBC revealed there was yet another setback.
An agreement between the developer, Karl Greenfarm, and the DSD was supposed to be signed earlier this year, but the timetable slipped again.
Mr McCausland said: "I am aware that plans for the development of this area are taking longer than we all would have liked, however the developer is currently speaking to the people that live and own property within the proposed boundary.
"It is right that sufficient time is allowed for these negotiations to conclude and my department will carefully review the position at the end of October."
Landscaped
The DSD has described the shipping containers as 'art pods' and it is understood they will be in place by next spring.
According to an artist's impression the area around the containers will be landscaped to allow seating and performance space for events and displays.
There is also a new community garden earmarked.
The whole idea is supposed to be based on similar schemes like the 'Container City' in London.
Mayor of North Down Councillor Wesley Irvine said the council was pleased that DSD had "announced its support for this temporary revitalisation project".
"It will certainly enhance and revive the area in advance of the long-term Marine Gardens redevelopment starting," he added.
The containers are only supposed to be in place for two years and will be relocated to another site within the town.
It is likely it will take at least two years for the Queen's Parade redevelopment to go through the planing process.