Mark Keenan jailed over balcony fall death of Jamie Murray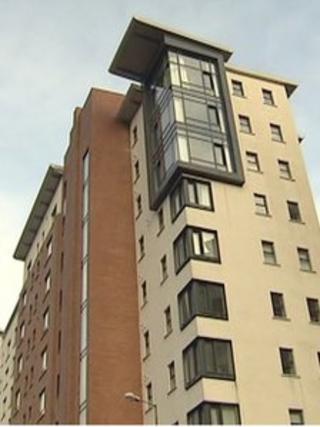 A man who caused an "entirely innocent" teenager to fall nine floors to his death from a Belfast apartment block has been jailed for seven years.
Mark Stephen Keenan, from Rosapenna Street, Belfast, was originally charged with the murder of Jamie Murray but pleaded guilty to his manslaughter.
The judge said Keenan was "solely responsible" for Mr Murray's death.
He fell after a row with Keenan on the balcony of the College Central apartment on King's Square in 2009.
Belfast Crown Court heard that the pair were both attending a party at the apartment when the "entirely innocent, blameless" teenager became involved in a what was described as a "tussle" and a "nasty argument" with 28-year-old Keenan.
'Tumbled'
The court was told that the only available account of what happened on the balcony had come from Keenan himself.
However, prosecution barrister, Terence Mooney QC, added that in the Crown view, that account was "tainted" with self-protection.
He said the prosecution accepted Keenan's guilty plea to manslaughter because there was insufficient evidence to prove a charge of murder.
The lawyer told Judge Burgess that expert engineer evidence indicated that Mr Murray had tumbled from the 9th floor balcony rather than was pushed from it.
Emergency services were called around 5.45 BST on 5 December 2009 when a ground floor tenant heard a heavy object hitting the ground in the courtyard of the apartment block.
When he went to investigate, the tenant found Mr Murray lying unconscious.
'Aggressive'
Mr Mooney said the 19-year-old suffered "multiple and catastrophic" injuries which led to his rapid death.
The lawyer added that although the circumstances of the fall were not clear, witnesses at the party had described Keenan as acting in a "beligerant, aggressive, disinhibited" manner.
In their evidence, they said he had challenged one man to fight and dropped his trousers in front of two girls.
Mr Mooney said Keenan's behaviour was in "stark contrast" to that of the victim, whose friends had describing how he had been enjoying himself at the party and others had been enjoying his company.
The prosecution said the teenager's death had left his friends and family "heartbroken".
Jailing Keenan, the judge said that while only the defendant knew exactly what had happened on the balcony, "the stark fact is that by his unprovoked actions, this defendant is solely responsible for the death".
'Loss'
He sentenced him to seven years, ordering that he serve half in jail and half on licence.
Judge Burgess said Mr Murray's death was "something which he, the defendant, will have to live with for the rest of his life".
Following the sentencing, the teenager's parents Jim Murray and Sharon Mitchell, released a statement thanking the police and the judge for "their efforts in bringing this case to a positive conclusion".
"While no matter how many years served will bring back our gentle, kind and fun loving Jamie, we hope in some small way it will help us to try and carry on and come to terms with our loss," the statement added.