Cavanacaw goldmine - residents get £10,000 compensation for planning breaches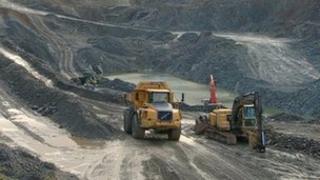 Three Omagh residents have been awarded £10,000 each by the Department of Environment (DoE) in compensation for its failure to enforce planning conditions at a nearby goldmine.
The residents had lodged a complaint about the number of heavy lorries travelling to and from the mine at Cavanacaw, three miles outside Omagh.
They complained to the Northern Ireland Ombudsman who found in their favour.
They have also received "unreserved apologies" from DoE Planning.
In 2008 and 2009, Omagh Minerals allowed hundreds of thousands of tonnes of rock from the goldmine to be removed by trucks - along a narrow road network - without the necessary planning consent.
The three residents complained about the impact the heavy lorries were having on their daily lives, travelling to and from the mine on tiny roads.
'Landmark decision'
They complained first of all to the DoE and then to the Northern Ireland Ombudsman about an apparent breach of planning permission.
In spite of several objections, it took the Planning Service more than a year to issue an enforcement notice telling the company to stop the unauthorised removal of the rock.
In a landmark decision, the Ombudsman found in the residents' favour and recommended that the DoE should give them £10,000 each in compensation.
It is understood the DoE has paid the money out and the three have also received an apology from the DoE for its failings.
The apology, signed by the head of DOE Planning, said: "I very much regret the shortcomings in our handling of this case.
'Failings'
"I fully understand that our failure to take effective, prompt enforcement action caused you considerable anxiety, inconvenience, distress, frustration and loss of amenity."
"I am also sorry... that there were inefficiencies in our record keeping.
"And on behalf of the Department of the Environment I wish to offer my unreserved apologies for these failings in administration."
The owners of the mine have said they have never knowingly breached any planning conditions.
Omagh Minerals said if the three individuals were prepared to donate their £10,000 to a fundraising campaign for a local special school destroyed in a fire, the firm would match this figure.
Its deputy general manager, Ronan Conway, said: "The entire Omagh area was devastated when news broke of the fire at Arvalee.
"We are a significant local employer and at OML we want to do our best to help Arvalee get back up and running so that the pupils, staff and parents can return to normality as soon as possible.
"If those residents who have received compensation from DoE today are willing to donate the money they have received, we will donate the same amount again."
One resident described the offer as a "stunt".