NIO roles for Damian Collins and Alec Shelbrooke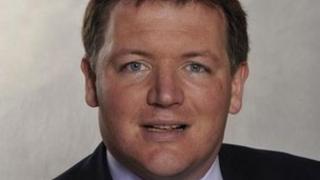 Two new faces have arrived at the Northern Ireland Office to work as ministerial aides.
Damian Collins is to be Parliamentary Private Secretary to Secretary of State Theresa Villiers, who was appointed earlier this month in the cabinet reshuffle.
He is the MP for Folkestone and Hythe and was first elected in May 2010.
A former president of the Oxford University Conservative Association, he graduated in 1996.
Mr Collins worked for the Conservative Party as a researcher, and was involved in business for 11 years before becoming an MP.
He has Irish roots, as his father was born in Dublin.
A keen sports fan, he was a member of the House of Commons Select Committee for Culture, Media, Sport and the Olympics.
He is now resigning his membership of this committee and says he "is delighted " to be coming to Northern Ireland.
His party colleague Alec Shelbrooke, who is MP for West Yorkshire constituency Elmet and Rothwell will be Parliamentary Private Secretary to Mike Penning, who was recently appointed as Minister of State at the Northern Ireland Office.
Alec Shelbrooke was first elected as an MP in May 2010, having previously unsuccessfully contested the constituency of Wakefield in 2005 general election.
He previously worked as a Parliamentary Private Secretary to Theresa Villiers when she was transport minister.
He has now followed her to Northern Ireland after she was appointed secretary of state in last week's reshuffle.
A former Leeds City Councillor, he is a mechanical engineer by profession and graduated from Brunel University in 1998.
He lists his interests as foreign affairs, transport and education.
After he was appointed to his Northern Ireland brief, he tweeted that he was delighted to be coming to "Northern Island".
He said it was a mistake and was down to "auto correct".
He added: "Interesting to note so many retweets over a simple mistake, I think that's the most I've ever had."
You can follow Stephen on Twitter @StepWalkTV