Pastor shocked at attack on Scott Vineer in Lisburn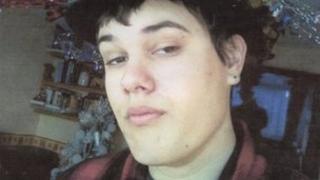 A pastor has spoken of his shock after visiting the hospital bedside of a teenager who was assaulted in Lisburn.
Scott Vineer, 17, who is autistic, is in a critical condition after he was repeatedly kicked in the head during the attack.
Pastor Nick Serb, who has been supporting the family, said he was upset by the extent of his injuries.
"When I left the hospital I felt like crying", he told the BBC.
"At first when the nurse said 'this is Scott' I said no, that's not the guy I know", the pastor added.
The teenager had befriended the Romanian clergyman after attending a drop-in centre.
The pastor described Scott as "extremely friendly" with "an inquisitive mind" and added that the 17-year-old is interested in football and "passionate about music".
He said the local church was praying for the teenager's recovery and was trying to find practical ways to help his family.
Scott had been missing for more than 24 hours when he was found by a police dog handler on Friday night.
He was discovered lying unconscious in the grounds of a disused furniture showroom close to the Lagan towpath.
His mother had raised the alarm at 22:00 BST on Thursday after he failed to return home from college.
Scott is a student at the South Eastern Regional College in Lisburn where he also attends a job club, run by the learning disability charity, Mencap.
Mencap's NI director Maureen Piggott said it was a "dreadful situation".
"It's beyond comprehension that anybody, for no reason, would brutally beat a young man like this and leave him so seriously injured," she said.
"I don't think we can make sense of it at all. I hope that Scott recovers and is able to tell us what happened."
She urged other students at the college not to panic and said staff were giving them advice about their safety.
No motive has yet been established for the attack on the 6 ft 3 in (1.9m) teenager, who has been described as a "gentle giant".
Detectives are not aware if anything was stolen from him, and they say there is nothing to suggest a sectarian motive.
Chief Inspector Darrin Jones said it was a "brutal and senseless attack on a vulnerable young man".
He appealed for anyone with information to contact the PSNI.