Arvalee Special School pupils go back to class after fire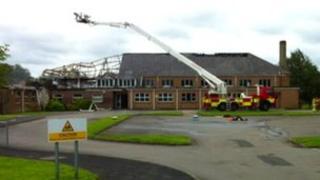 Primary pupils from a County Tyrone school which was destroyed by fire 11 days ago are due to start classes in temporary accomodation on Tuesday.
Students from Arvalee Special School will be bussed to two sites - one at Knockavoe in Strabane and the other at St Eugene's High School in Castlederg.
The building of a replacement school at Lisanelly educational campus site is now set to be fast-tracked.
An emergency meeting is due to be held to discuss fundraising.
Arvalee Special School catered for 103 pupils aged from three to 19, and they had been due to start their new academic term last Monday, 3 September.
However, the building was extensively damaged by a major fire which took hold during the early hours of 1 September.
Stressed
Forensic officers and police carried out a detailed examination of the scene but as yet, no definite cause has been established.
Shauna McQuaid, whose 15-year-old son Nathan is a pupil at Arvalee, said the impact on the families of children with special needs had been "devastating" and they were anxious to return to normality.
Nathan is autistic and last year he was also diagnosed with epilepsy.
"Routine for autistic people is everything" she explained.
"It's just all change for him - a change of route to school, different children on the bus and then going to the new school enviroment".
Ms McQuaid said her son, who has very limited verbal communication, had become very upset and stressed when she tried to explain that the building had been destroyed and he would have to go to a different school.
However, she said that she had feared it would be months before he could return to class and could not believe that alternative accomodation had been sorted out within days of the fire.
Next week, post-primary pupils will be accomodated in Castlederg.