Proms time at Belfast's Titanic Slipways,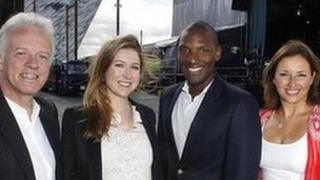 Thousands of people enjoyed a magical evening of music at the Titanic Slipways in Belfast on Saturday at this year's BBC Proms in the Park.
BBC Proms in the Park in Northern Ireland is in its eleventh year and all tickets for the free event were allocated.
This year BBC Proms in the Park teamed up once again with the Ulster Orchestra under the baton of Christopher Bell for what was a spectacular night of popular classical and contemporary music.
The event was part of the BBC's prestigious Last Night of the Proms celebrations as once again Northern Ireland, Scotland, Wales and England hosted ambitious live events to mark the end of the world's largest classical music festival.
Proms in the Park from the Titanic Slipways, Belfast, was hosted by BBC Northern Ireland's Noel Thompson and Claire McCollum.
It was the first time Proms in the Park in Northern Ireland came from Belfast since 2008.
'Sinking'
The event featured performances from renowned musicians and singers from the worlds of classical and contemporary music including internationally acclaimed tenor Noah Stewart, superstar soprano Hayley Westenra, Bangor-born troubadour Foy Vance, award-winning flautist Eimear McGeown and renowned folk act McPeake (formed by Francis McPeake IV from the legendary McPeake Family).
Ahead of his performance at BBC Proms in the Park, Noah Stewart said: "'I am delighted to be coming to Northern Ireland for the first time and to be visiting the H&W dockyard during centenary year of the sinking of the Titanic."
Francis McPeake IV said: "It's the best feeling in the world to be coming home from a US tour to perform in our home town.
"It couldn't be nicer to celebrate both the 60th Anniversary of my great-grandfather's song 'Will Ye Go Lassie Go' and the centenary of the Titanic at such a historic site."
Staged with the stunning backdrop of Titanic Belfast and the Harland and Wolff cranes, the event celebrated Northern Ireland's achievements in industry and culture and commemorate the 100th anniversary of the sinking of the Titanic through classical, contemporary and traditional music.
The programme was recorded by BBC Northern Ireland to be shown on television later in the year.