Thousands attend BBC Proms in Park at Titanic slipway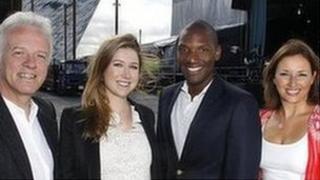 An audience of 7,000 enjoyed a concert of classical and contemporary music at the Titanic Slipways, Belfast, at the BBC Proms in the Park on Saturday.
The extravaganza, now in its eleventh year, featured the Ulster Orchestra conducted by Christopher Bell.
An array of international and home-grown classical and contemporary music stars also performed against the striking backdrop of Titanic Belfast.
This was the first time since 2008 that the event had been staged in Belfast.
The all-star case included internationally-acclaimed tenor Noah Stewart, superstar soprano Hayley Westenra, Bangor-born troubadour Foy Vance, award-winning flautist Eimear McGeown and renowned folk act McPeake (formed by Francis McPeake IV from the legendary McPeake Family).
Stunning
The event celebrated Northern Ireland's achievements in industry and culture and commemorated the 100th anniversary of the sinking of the Titanic through classical, contemporary and traditional music.
Among the songs performed on the night was a beautiful rendition of Nearer My God To Thee by Noah Stewart and Hayley Westenra's stunning version of I Dreamed A Dream, from the musical Les Miserables.
BBC Northern Ireland's Noel Thompson and Claire McCollum presented the concert and it was broadcast live on BBC Radio Ulster.
The event was part of the BBC's prestigious Last Night of the Proms celebrations as once again Northern Ireland, Scotland, Wales and England hosted ambitious live events to mark the end of the world's largest classical music festival.
BBC Proms in the Park at the Titanic Slipways was recorded by BBC Northern Ireland and will be shown on television later in the year.