Peter Robinson warns on Scottish independence vote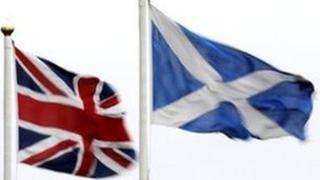 Scottish independence can be defeated with a Saltire in one hand and a Union Flag in the other, NI Assembly First Minister Peter Robinson has claimed.
Mr Robinson paraphrased the Irish republican slogan during his speech to the British-Irish Association Conference in Oxford on Saturday.
Predicting that Scottish voters would reject independence, he said it would be a step into the unknown for the UK.
He said history would judge whether devolution had secured the union.
The Scottish parliament has called for a referendum on whether the country should become an entity independent of the United Kingdom. The vote will be held in 2014.
'Implications'
Mr Robinson's reference to the Saltire (the flag of St Andrew) and the Union Flag was a play on the words of senior Irish republican Danny Morrison who referred to taking power in Ireland with "a ballot box in one hand an Armalite (rifle) in the other".
The first minister said: "We shall see what the Scots decide on polling day, but whatever the implications of independence for Scotland, there can be little doubt that the United Kingdom would be the poorer for its absence.
"I feel about this passionately and those of us who believe in the strength of the UK as a joined-up entity should make it our business to challenge the flawed logic which suggests that the peoples who inhabit its constituent parts would be better apart."
He said it was his "sincerest hope" that the Scottish referendum would be used as an opportunity "to expound the significance and worth of the Union and evaluate how the Union can be improved to ensure its survival".
"If we get that right, then I hope it will be at least a further 100 years before we have another challenge to the integrity of the Kingdom," he added.