Orange Order holding parade talks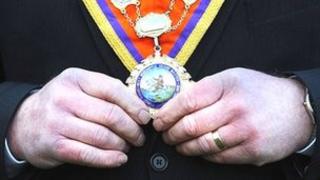 The Orange Order has said it is involved in "quiet conversations" to address issues over parade disputes.
The order issued a statement on Friday looking ahead to an Ulster Covenant centenary parade on 29 September.
It said talks were taking place "to address issues that have arisen in relation to peaceful protests against the Parades Commission".
"We are genuinely committed to finding a just and equitable resolution to these matters," it said.
It said the discussions were taking place "away from the public gaze".
The order praised the Royal Black Institution which on Thursday apologised "for any offence caused" to clergy and parishioners of a Catholic church in Belfast.
During a Royal Black Institution parade last month, loyalist bands played music outside St Patrick's Church in defiance of a ruling by the Parades Commission.
The institution said its anger was not directed at the Catholic church, but rather at the Parades Commission.
The Orange Order said it "fully supports the sentiments expressed".
Northern Ireland's first and deputy first ministers held talks on Wednesday and Thursday following three nights of violence in north Belfast following a republican parade on Sunday.
Deputy First Minister Martin McGuinness said although the violence had been terrible, it could present an opportunity to resolve future problems over parades.
An Orange Order delegation met with First Minister Peter Robinson during Wednesday's talks.