Changing face of PSNI and GAA relationship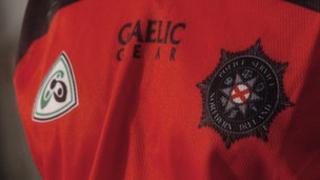 A police officer from Londonderry has spoken publicly for the first time about playing Gaelic football for the PSNI despite the threat from dissident republicans.
He is one of a dozen or more recent recruits who now play with the PSNI's Gaelic football team.
It was set up in 2002, a year after the Gaelic Athletic Association lifted Rule 21, which banned members of the police and the Army from playing Gaelic games.
In recent years, Catholic police officers have been a target for dissident republicans, who regard them as traitors.
In 2010, Constable Peadar Heffron was badly injured when a booby-trap bomb exploded under his car.
And in 2011, dissidents killed his colleague Constable Ronan Kerr in Omagh. At his funeral, the GAA and the PSNI united in an unprecedented show of solidarity.
A radio documentary, the Game of their Lives, examines how the relationship between the PSNI and the GAA has changed, gauging grassroots opinion at clubs in south Armagh and County Derry.
The young PSNI officer says: "Sadly we are still a target for certain people.
"But maybe in time we will be able to tell people in normal life that you play for a Gaelic team that you're proud to play for."
However, that continues to be impossible in some nationalist areas, where there is little faith in the PSNI.
'Out of bounds'
Oliver Hughes is the chairman of Wolfe Tones Gaelic Athletic Club in Bellaghy. His predecessor, Sean Brown, was murdered by loyalists in 1997.
Mr Hughes says the club, and others, remain out of bounds for serving officers.
"Perhaps there's areas where that could happen, and is happening, but I would safely say in the whole of south Derry it wouldn't ever happen."
But at Coleraine's Eoghan Rua GAC, club secretary Kevin Mullan says things are changing, albeit without much fanfare.
"There may well be police officers playing or have played for this club," he says.
"We don't ask people whenever they come to our club what their job is."
The young police officer says he is hopeful that things will improve across Northern Ireland. Attitudes in the PSNI, he says, have changed too.
"People in the police who maybe wouldn't have had too much knowledge of GAA beforehand are asking you questions," he says.
"It's good having it in the police. It's bringing it to a wider audience than before."
The GAA's Ulster Council, meanwhile, insists Rule 21 needed to go, even though members in five out of the six counties north of the border voted against the motion in 2001.
Spokesman Ryan Feeney, who is also a member of the Policing Board, says it has made it possible for some officers to continue playing for their local clubs, as well as for the PSNI Gaelic team.
"I know of 10 at least that are playing for their local club," he says.
"I think it's still very difficult for any police officer to be involved at grassroots community level, because there's still a stigma there, whether they want to say it or not."
The Game Of Their Lives was first broadcast on BBC Radio Ulster and BBC Radio Foyle on Sunday, 9 September at 13:30 BST. It is repeated at 19:30 BST on Thursday.