Rugby Road, Belfast, residents angry over tarmacking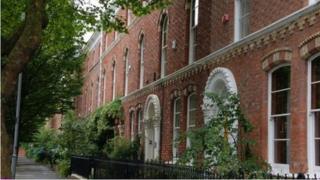 Residents on a street in south Belfast have said they are angry it is to be tarmacked.
Letters arrived on Thursday to notify them that work would begin on Monday. They fear it will not be in keeping with the street.
The terraced houses on Rugby Road are listed buildings and have to be maintained sympathetically by owners.
Because of their historic nature, the houses are often used in films and drama productions.
The residents have written to the roads minister asking for the tarmacking to be halted to allow time for proper discussion.
Spokeswoman Annie McCartney said: "Film companies use this area when they come because this is probably the best preserved residential Victorian terrace in Belfast.
"Just with the signature of someone in DRD (Department for Regional Development) they're just going to tarmac it and make it disappear.
"It just doesn't seem fair."
In a statement the Roads Service said: "Due to the deteriorating footway and carriageway in Rugby Road, Roads Service has provisionally programmed work to resurface in the area to minimise the risks to the public of trips and falls and to reduce the ongoing cost of maintenance associated with the repair of the existing defects.
"However, Roads Service are mindful of the aesthetic nature of the area and we propose to keep the granite kerbs. During the recent letter drop to residents, Roads Service has become aware that some residents are concerned the works will be out of character to the area.
"We are therefore more than happy to engage further with residents and/or their representatives before the scheme commences in an effort to address any concerns raised."