Appeals over Dolours Price interviews to start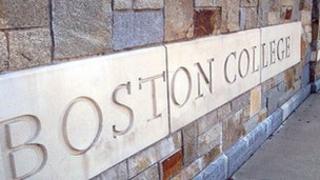 Legal appeals to prevent interviews with a former IRA bomber from being handed over to the PSNI will begin in Belfast and Boston on Friday.
The interviews with Dolours Price were part of a history project for Boston College.
Lawyers are appealing the decision in both countries to hand over the tapes to the PSNI.
Price agreed to give the interview on the condition that her account would be confidential until after her death.
The appeals are being made by lawyers acting on behalf of researched Ed Moloney and Anthony McIntyre.
The PSNI is seeking her transcripts as part of their investigation into the IRA murder of Jean McConville in 1972.
Also on Friday, Boston College will appeal to limit the handover of interviews from its Belfast Project.
Loyalist and republican paramilitaries gave interviews to the university as part of the project.
In July, a US appeal court ruled that Boston College interviews should be handed over to the PSNI.
Mr Moloney, a journalist, and Mr McIntyre who is a former IRA member, had applied to the First Circuit Court of Appeal for a rehearing of the case, but this was rejected last month.
The men said they were "disappointed" but would now apply for a hearing at the US Supreme Court because the case "addresses issues of major constitutional importance for Americans".
They said the PSNI had applied for access to the interview transcripts under the terms of a Mutual Legal Assistance Treaty (MLAT) between the US and the UK.
In a joint statement, the men said their lawyers would argue that "the MLAT bestows upon the PSNI greater powers in relation to the serving of subpoenas in the US than could be exercised by, for instance, the FBI.
Price was convicted of her part in the car bombing of the Old Bailey courthouse in London on 8 March 1973. The explosion injured more than 200 people.