Derry home staff suspended over abuse claims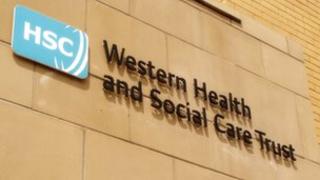 The Western Trust has said a number of staff have been suspended while police investigate allegations of abuse at a Londonderry home for vulnerable adults.
The trust confirmed it has received a number of allegations of mistreatment at Ralph's Close on the Gransha site.
The trust's Aidan Gordon said the allegations were of a serious and concerning nature.
"We wish to explore every possible avenue in bringing the investigation to a conclusion," he said.
Mr Gordon said the trust would be "ensuring that we do everything we can to make sure that our residents are kept safe".
There are 16 adult residents at the home, aged 18 and up. They are accommodated in four buildings split between male and female.
David O'Hara from charity Destined, which works with people with learning difficulties, including a small group from Ralph's Close, said the home caters to people with severe learning disabilities.
"Communication can be a difficulty for some of the residents, so some families are concerned that their relative may not be able to communicate fully with them, which is not to say that anything has happened to them, but there is a worry there with families."
'Unusual step'
He said the charity was made aware that there were allegations but they did not involve the people they worked with and the charity was not told the nature of the alleged abuse.
SDLP Foyle MLA Pat Ramsey called for the investiagtion "to be conducted swiftly and thoroughly so as to alleviate the distress of parents and centre users".
He said he hoped services were in place for any young people who were caught up in the investigation.
Mr Gordon said the trust had taken the "unusual step" of appealing to the media for help with the investigation.
"The trust has taken a mature decision that these allegations are of a sufficiently serious and concerning nature that we want to explore every possible avenue in bringing the investigation to a close and ensuring our residents are kept safe," he said.
Mr Gordon said the trust was engaging with families, who had been made aware of what is happening.
He said each family had been appointed a key worker to deal with any queries or concerns they might have.
It is not known how many staff have been suspended.
The trust has asked anyone with information about the investigation to contact the out of hours social work service on (028) 7134 5171 or the adult safeguarding service on (028) 7161 1366 (Mon-Fri 9am to 5pm).