900 Northern Ireland school buildings contain asbestos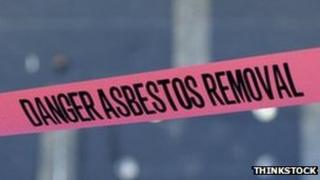 Almost 900 school buildings in Northern Ireland contain asbestos, it has been revealed.
Some 84% of schools in the Northern Education Board area contain the substance - the highest percentage of the boards.
White, blue and brown asbestos are all potentially dangerous and have been banned in the UK.
NI's Department of Health said asbestos that was not disturbed or damaged was not a significant health risk.
Asbestos was extensively used in building in the 1970s because of its strength and heat resistance.
However, if asbestos is damaged, the fine fibres become airborne and can be inhaled causing serious diseases including lung cancer and asbestosis.
Details of the extent of the asbestos presence in schools were contained in papers released by the five education boards following a Freedom of Information request by the Belfast Telegraph.
The documents reveal asbestos is contained in 876 schools across Northern Ireland, including 61 nursery schools.
Disturbed
Crocidolite, the most dangerous form of asbestos, is present in 21 schools, including 10 in the Southern Board area.
In a statement to the newspaper, the Department of Education said asbestos which was not disturbed or damaged was not a significant risk to health as long as it was properly managed.
The department said, that in line with government policy, it was better for it to be managed for the remaining life of the school rather than be disturbed.
The Health and Safety Executive website states: "Asbestos is the single greatest cause of work-related deaths in the UK."
It added: "Working on or near damaged asbestos-containing materials or breathing in high levels of asbestos fibres, which may be many hundreds of times that of environmental levels can increase your chances of getting an asbestos-related disease."
Asbestos could be present in any building that was built or refurbished before 2000.