Flu vaccines for children in Northern Ireland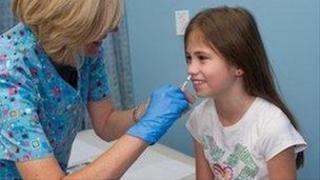 All two to 17-year-olds in Northern Ireland are to be offered annual flu vaccinations, Stormont Health Minister Edwin Poots has confirmed.
Up to 400,000 children will be vaccinated during a six-week period, starting in 2014 at the earliest.
The children will be immunised using a nasal spray rather than an injection.
Children in at-risk groups, such as those with asthma, heart conditions or cerebral palsy, are already eligible to receive the vaccine from their GP.
'Significant challenges'
Mr Poots said he had taken the decision following a recommendation from the Joint Committee on Vaccination and Immunisation (JCVI).
He said the extent of the vaccination programme would pose "significant challenges".
The JCVI, a body of independent health experts, have suggested the health benefits outweigh the difficulties.
All immunisation is intended to benefit the wider population as well as the individual through what is known as herd immunity.
Chief Medical Officer Dr Michael McBride said rolling out a wider programme "could protect children and help to further protect our most vulnerable members of society".
"In the meantime, for the forthcoming flu season, our priority remains to ensure a high uptake rate is achieved in the at risk groups including pregnant women," he added.
The most significant challenge will be in sourcing enough new vaccine, as there is only one manufacturer which will have to assess its capacity to deliver enough product.
Other issues being examined by the Department of Health include whether school nurses or others with appropriate qualifications should deliver the vaccine.