North Belfast riots: Robinson and McGuinness meet Baggott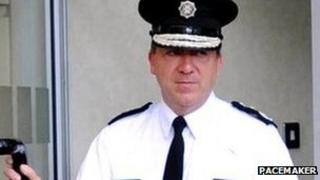 Police Service of Northern Ireland Chief Constable Matt Baggott is at Stormont for talks with the first and deputy first ministers.
They are discussing the recent violence in north Belfast and the parading issues which surround it.
More than 60 police officers were injured in three days of violence.
Justice Minister David Ford is also taking part in the talks along with two other executive ministers - Alex Attwood and Danny Kennedy.
The violence started on Sunday after a republican parade close to Carlisle Circus.
Earlier on Thursday, at a meeting of the Policing Board, Mr Baggott said: "One moment we (police officers) are expected to stand under a shield and then the next day they are expected to take part in normal duty."
He added: "I do believe there is cause for hope and optimism even with the events of the past couple of days.
"We are not going to let this slip and this is why the dialogue and consensus is so important.
"I think policing is coming out of politics and politics coming out of policing and that is a really important development."
However, he also said it had been fortunate no-one had been seriously injured during the trouble.
"I think the genie, the violence, came out of the bottle," he said.
Also at the meeting, the chairman of the Policing Board Brian Rea said: "The impact of policing parades, protests and disturbances has resulted in substantial injury to our police officers.
"It is shameful 65 officers were injured. We want to express our revulsion and want to praise police officers courage and bravery."
'Positive talks'
On Wednesday, Peter Robinson and Martin McGuinness described talks about contentious parades in the area as "positive and constructive".
They met north Belfast politicians to discuss ongoing tensions in the area.
An Orange Order delegation met privately with Mr Robinson.
In a statement, Peter Robinson and Martin McGuinness said: "We are very encouraged by the determination of all those who attended today's meeting to work together to agree a way forward. All agreed that there is no place for violence.
"There is a recognition that all the interested parties, not just politicians, have a role to play in the parades issue.
"We will be chairing a further series of meetings in the coming days with the aim of reaching a successful resolution ahead of the (loyalist) march on 29 September.
"Beyond that we will be resuming efforts to find an agreed approach to dealing with all contentious parades."
On 29 September, there will be a loyalist parade to mark the 100th anniversary of the Ulster Covenant.
The police have said politicians must sort out the situation; politicians have said they are doing all they can.
After Wednesday's talks Mr Robinson said: "I have also had contact with the Orange Institution.
"I was greatly encouraged by the views that were expressed during the course of that meeting."
On Wednesday evening, members of the clergy took part in a prayer vigil at Carlisle Circus, where they appealed for calm.
Meanwhile, a 15-year-old boy has been charged with rioting over trouble on Tuesday night.
He is due to appear at Belfast Juvenile Court on Thursday. Two men aged 18, two aged 23 and one aged 19 have been released on bail pending further enquiries.