Irish Catholic bishop in apology over paedophile priests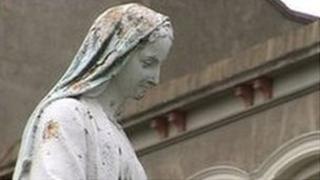 The Catholic bishop of Clonfert in east Galway has apologised for moving two priests from one parish to another in the 1990s after they had abused children.
Dr John Kirby has said he did not understand the nature of paedophilia at the time.
Bishop Kirby's remarks follow the publication of the latest independent audit of child protection practises in four Catholic dioceses, mainly in the south and west of Ireland, and three religious orders.
He described his decision to move the priests on as "a grave mistake" but said he was no't aware at the time of the sinister nature and repeat behaviour of the abuser or of the life-long damage caused to the child.
"Most of all - whilst I did notify the civil authorities at the time of these complaints - I profoundly regret and apologise for moving the priests concerned to different parishes, thereby placing others at serious risk," he said.
Bishop Kirby told his local radio station, Galway FM, that he then regarded paedophilia "as a friendship that had crossed a boundary line".
He said he now operates very differently "and will continue to do so in the future."
The audit was carried out for the Catholic Church by the National Board for Safeguarding Children, headed by Ian Elliot.
It found that 335 allegations were made against 146 priests and members of religious congregations.
It concluded that a higher number of allegations were made against clerics in religious orders compared to those in dioceses.
Of all the allegations 142 were made against the Irish Province of the Congregation of the Holy Spirit.
The authors discovered examples where offenders were able to continue abusing children for longer than they should have, because individuals who were known to be a risk were not properly managed.
They also uncovered allegations of abuse that had not been reported to the Irish police, the Garda Siochana, and conclude that full compliance with child protection practices agreed three years ago is still some way off.
A support organisation for survivors of child sex abuse, One in Four, has welcomed the findings, shocking though it said, they were.
The group's executive director, Maeve Lewis, said: "It is beyond belief that children are still at risk of sexual abuse in certain areas of the Catholic Church and that the lessons of the statutory reports have not been learned.
"This undermines the very positive efforts that have been made in other dioceses and congregations to keep children safe."
Ian Elliot and his team have now looked at how 10 of the church's 26 dioceses and three of 162 religious congregations have dealt with child protection issues.
Their work will continue.