Carlisle Circus, Belfast, rioters 'in Facebook arrangements'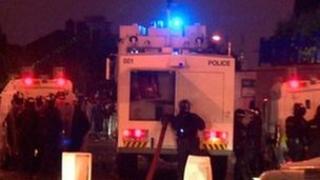 Teenagers arranged to take part in rioting in north Belfast through Facebook, a court has been told.
Lawyers said the social networking site was used by those suspected of involvement in major disturbances in the Carlisle Circus area.
More than 60 officers have been injured during three consecutive nights of violence.
Three men and two boys, aged 15 and 17, appeared before courts in the city on Wednesday over Monday night's disorder.
Robert Douglas, 19, of Baltic Avenue; Lee Patrick McCartan, 18, from Friendly Street; and David Irwin, 20, of Highpark Drive - all in Belfast - are each charged with riotous assembly.
Mr Douglas faces further counts of assault on police, resisting arrest, possession of an offensive weapon, namely a knife, and indecent behaviour.
Mr McCartan is also charged with assault on police.
None of them sought bail as they appeared at Belfast Magistrates' Court. All three were remanded in custody to appear again later this month.
Meanwhile, Belfast Youth Court heard claims that troublemakers had gone online to confirm their participation in the violence.
Declan Quinn, barrister for a 17-year-old boy accused of riotous assembly, said a number of youths had attended following prior arrangement on Facebook.
Threw bricks
It was alleged that his client, who cannot be named because of his age, broke up and threw masonry amid the attacks on police.
A 15-year-old co-accused, also charged with riotous assembly, has admitted throwing bricks at police and apologised for his actions, the court heard.
His lawyer confirmed that he also used the social networking site to find out rioting was due to take place in the Denmark Street area.
"These things go on Facebook, they all talk to each other, they get excited and they end up down at a place they definitely shouldn't be," he said.
Police opposed bail for both teenagers on the basis that the ongoing disorder was putting the lives of officers, the public and the rioters themselves at risk.
A constable claimed the 15-year-old changed his clothes after taking part in the violence in a bid to avoid detection.
However, District Judge George Conner ruled that both teenagers could be granted bail.
He banned them from going within 500 metres of Carlisle Circus and from using any social networking media.
Mr Conner told the 15-year-old: "Tempted as we are to make an example of you so that can go out on Facebook we are going to give you a chance.
"If you receive a message from any of your friends or anybody you don't know saying there's rioting going on you ignore it."
Both teenagers are to appear again next week to ensure compliance with bail conditions which also include night-time curfews and electronic monitoring.