Examine Northern Ireland petrol prices, OFT urged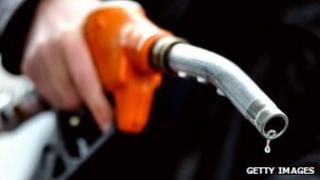 The chairman of the Enterprise Committee wants to bring the Office of Fair Trading (OFT) to Northern Ireland to assess how petrol and diesel prices are affecting consumers and businesses.
The OFT is to spend six weeks gathering evidence about whether competition is being curtailed in the UK.
The SDLP's Patsy McGlone said the review is to be welcomed.
However, he said he hoped it would also look at why fuel prices are higher in NI than the rest of the UK.
"I'm calling on the OFT to come over and tell us what they are doing for struggling consumers and businesses here," he said.
"The high price of fuel is having massive implications on consumers and businesses and the transport sector in particular, which is having a sustained knock-on effect once again on consumer goods when people can least afford it.
"As the incoming Department of Enterprise Trade and Investment (DETI) chair, I intend to invite the Office of Fair Trading to come and not only talk to the DETI Committee, but through that, talk to the hard-pressed people of the north."
The watchdog's review will also consider whether falling costs of crude oil are reflected in prices paid by motorists.
It will publish its findings in January.
The OFT said that the UK retail road fuels sector was estimated to be worth about £32bn.
Petrol prices rose by 38% between June 2007 and June this year, and diesel prices went up by 43% over the same period.
In June, the government announced it would postpone its 3p-a-litre rise in fuel duty from August until January.