Name of Belfast cell death man released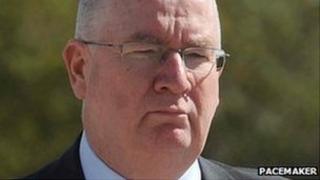 The Police Ombudsman's Office has released the name of the man who died while in police custody at Musgrave Police Station in Belfast on Tuesday.
He was 34-year-old James Desmond McVeigh from the Cregagh area of the city.
The ombudsman launched an independent investigation after being informed that Mr McVeigh's body had been discovered in his cell.
A spokesman said a post mortem had been carried out and enquiries into the death were ongoing.
Police Ombudsman Dr Michael Maguire said: "All deaths in police custody in Northern Ireland are subject to independent and impartial investigation by my office in order to establish the exact circumstances of the death.
"We will be interviewing officers who had contact with Mr McVeigh in the time leading up to his death, as well as gathering all other relevant information and evidence in order to build up a full picture of how the death occurred."
He added that family liaison officers from his office were in ongoing contact with Mr McVeigh's family.