Passengers escape injury over damaged railway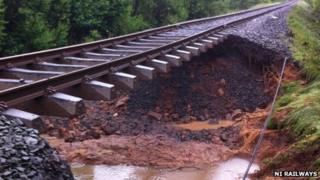 More than 100 people escaped injury after a train ran over a section of damaged railway in County Antrim.
However, the full incident, which took place on 28 June, was not reported to an investigation team for two months.
The driver was unable to stop before the first of six carriages had run onto an unsupported section of track.
The train was bound for the Irish open golf tournament, over a line not normally used for passenger services.
The train did not derail and was reversed away.
The Rail Accident investigation Branch (RAIB) is looking into the incident at Knockmore, outside Lisburn at 07:05 on 28 June.
There were five crew and about 100 passengers on board.
The RAIB said it was notified of the embankment failure on 4 July but only became aware of the involvement of a train during late August.
The RAIB said its investigation will identify the sequence of events that led to the wash-out and a passenger train running over it.
The RAIB investigation is independent of any investigations by the Department for Regional Development or the Health and Safety Executive for Northern Ireland.
Translink said it was currently reviewing the circumstances of the reporting of the incident and would "fully co-operate with, and support, the RAIB investigation".