Politicians criticised over 'slow response' to violence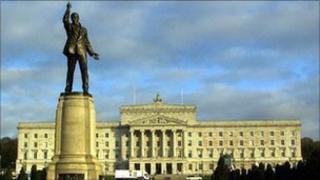 Stormont politicians in general and the First Minister, Peter Robinson, in particular have been under fire in recent days for what some see as their slow response to the violent disorder in north Belfast.
The police have called on political leaders to sort things out before someone gets killed.
The Methodist church said people "expect leadership from their government to help alleviate tensions and bring peace back to our streets".
The church statement went on to criticise Mr Robinson for doing nothing "except sign an anti-Parades Commission letter which does little to instil confidence on both sides of our community".
(Since that statement was issued Mr Robinson says the Methodist president has apologised for its tone.)
After Monday's meeting of the power-sharing executive, the first after its summer break, the first and deputy first minister did announce an initiative to open up dialogue with community leaders in north Belfast in an attempt to find a peaceful way forward.
Wednesday's meeting with local elected representatives is being billed as a first step along that road.
But they did not make a joint appearance in front of the cameras, instead sending out the Justice Minister, David Ford, to field questions.
That decision not to make a joint appeal for calm was telling; a sign that the two politicians had yet to agree a common line.
It's one thing for Peter Robinson and Martin McGuinness to jointly congratulate Northern Ireland's paralympians or welcome a new Victims Commissioner to her job.
It's another to navigate the turbulent issue of parading.
In recent days Mr McGuinness has called for everyone to abide by Parades Commission determinations.
That's the same Commission described in the open letter to the Northern Ireland Office - signed by almost all Belfast-unionist elected representatives, including the first minister - as arrogant, incompetent and ignorant, as well as responsible for "monstrous" rulings.
The meeting between the first and deputy first ministers, the North Belfast MP, Nigel Dodds, and the area's assembly members won't be easy.
The SDLP's Alban Maginness has accused the DUP's Nelson McCausland of being "dangerously close" to breaking his Stormont ministerial pledge, which includes a commitment to uphold the rule of law.
Mr McGuinness has also charged Mr McCausland with demonstrating a "complete abdication of leadership".
Both those comments were prompted by an interview on BBC Radio Ulster's Nolan show during which Mr McCausland was asked to condemn those who broke Parades Commission's rulings, which have the force of law.
Instead the North Belfast MLA referred to the long tradition of civil disobedience in Northern Ireland, including protests he himself had engaged in in the past.
Between white line protests, blocking roads or refusing to pay tax there's no doubt that both sides in Northern Ireland have engaged in civil disobedience on frequent occasions.
But, in previous decades, local politicians were railing against policies imposed by London ministers. Now in the era of devolution it's a more difficult balancing act for someone to try to be both a law maker and to justify law breaking.
'Urgent pragmatism'
The Methodist President, Ken Lindsay, on Wednesday drew the line between non-violent disobedience and the violent disorder witnessed in recent days.
The problem with parades disputes is that any initial act of disobedience rarely stays "civil" for very long.
You could write an academic thesis on the teachings of Mahatma Gandhi and whether civil disobedience must always be peaceful.
However, this isn't an essay crisis, but a real calamity on the streets.
With the clock ticking towards the massive Covenant commemoration march at the end of the month, politicians and community leaders don't have the luxury to dwell on their principles.
They will, instead, have to engage in some urgent pragmatism in order to prevent a recurrence of this weekend's rioting.