Arvalee Special School's rebuilding will be fast-tracked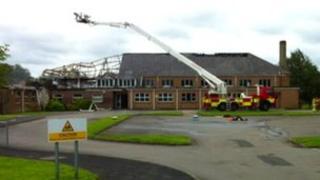 NI's education minister has promised to fast-track the rebuilding of a special needs school destroyed in a fire in Omagh.
The cause of the fire at Arvalee School has yet to be established.
John O'Dowd wants a replacement for the school built on the Lisanelly educational campus site.
He said initially pupils may have to be taught on several different sites but everyone was trying to get them back to school as soon as possible.
"This event arrived out of the blue to everyone," he said.
"I believe the Western Board and my departmental officials are doing everything within their powers to accommodate those children in the most suitable accommodation as quickly as possible."
One hundred and three pupils had been due to return to the school on Monday morning.
Principal Johnathan Gray said staff and pupils were devastated by what had happened.
Forensic officers and police have carried out a detailed examination of the scene following the blaze on Friday night.
Further samples have now been taken for analysis.
Police said there had not been any "breach" of the school or its perimeter.
The fire destroyed about 75% of the building and there were fears for the safety of the remaining structure on Deverney Road.
The school opened in September 2004, after the amalgamation of Heatherbank School and Cranny School.
It specialises in working with pupils aged three to 19 years of age who have moderate and severe learning difficulties.