Teen in court over north Belfast violence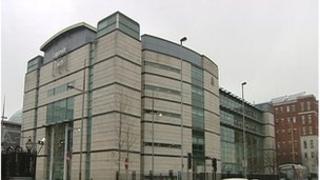 A teenager accused of assaulting police during violence in north Belfast has been refused bail.
The 17 year old, who cannot be named because of his age, appeared before Belfast Magistrates Court on Tuesday.
He is accused of rioting, assaulting police and resisting arrest during violence in the Carlisle Circus area on Sunday.
The court heard a claim that the teenager had injured a police officer in the leg.
Police objected to bail because they believe he could become involved again in trouble.
A defence lawyer said the teenager suffers from attention deficit hyperactivity disorder (ADHD) and mental health problems. She said his mother was the person capable of caring for him.
However the judge said: "In the current circumstances the likelihood of re-offending is very high. His address is keeping him within an area of temptation."
He was remanded in custody until 26 September.
Meanwhile, three men, aged 18, 19 and 20, and two youths have been charged with rioting in north Belfast on Monday night.
The 18-year-old man also faces three counts of assaulting police.
The 19-year-old is also accused of resisting arrest, having a knife in a public place, indecent behaviour and three charges of assault.
All three are expected to appear before Belfast Magistrates' Court on Wednesday.
The youths, aged 15 and 17, will appear before Belfast Youth Court.