Dard relocation - Mixed reaction from staff says NIPSA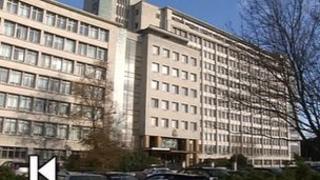 The decision to move up to 800 civil servant jobs from Belfast to County Londonderry has received a mixed reaction from staff, a union has said.
Stormont's Department of Agriculture is to move from Dundonald House in east Belfast to Ballykelly by 2015.
The Northern Ireland Public Service Alliance (NIPSA) union had campaigned for the jobs to be decentralised.
Noel Griffin from NIPSA said some of their members had expressed concerns but others had welcomed the move.
The relocation was confirmed on Monday evening by the Agriculture Minister, Michelle O'Neill, who hailed it as a "good news announcement for the rural economy, especially the north west".
She said none of the 800 civil servants would be forced to move to Ballykelly against their will.
The small County Londonderry town is more than 100km (62 miles) from Belfast.
Opportunity
Mr Griffin said some NIPSA members had expressed concerns about their future in the department, but he believed potential difficulties could be resolved through the union negotiations.
He added that the opportunity to move to Ballykelly would be welcomed by some civil servants who currently spend hours commuting between Belfast and the north west.
"Whilst as a union we have fought (for) and support decentralisation of public sector jobs throughout Northern Ireland to ensure there is fair distribution of them, at the same time we have to protect the interests of our members in DARD," he told BBC Radio Ulster.
Mr Griffin said members were worried about aspects of their employment contracts, include job sharing arrangements, part-time working, and reduced hours, and wondered if such conditions would be retained after the relocation.
He said others were worried they would have to move house.
"Our view is quite clear and we agree with the ministers, nobody should be forced to move", Mr Griffin explained.
He added that NIPSA believed many of the "initial problems" raised by its members could be resolved through its negotiations with the department.
'Work-life balance'
"I think the fact that we've got three years before the move gives us ample time to sort out a lot of the concerns of our members," he added.
Mr Griffin said there were benefits to decentralisation, including the reduction of the department's carbon footprint, and less traffic on the roads.
"Also there is a work-life balance issue as well, that people can spend more time at home rather than travelling two to three hours per day going to work."