Ben Robinson inquest hears mother wanted him off pitch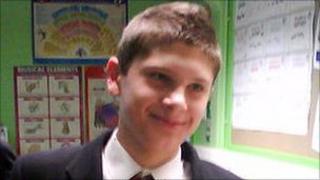 A schoolboy who died on a rugby pitch in NI should have been taken off at half time, his mother has told an inquest into his death.
Carrickfergus Grammar School pupil Ben Robinson, 14, collapsed at the end of a match after a series of heavy tackles.
His mother, Karen Walton said that by the end of the game he was staggering and forgetting he was playing.
The inquest in Belfast is considering whether he was concussed at an earlier stage and should have been taken off.
"I wanted Ben off at half time as I felt he was involved in too many tackles and I felt he had done his bit for the game, regardless of when he came off," Mrs Walton said on Monday, recalling the match in Carrickfergus between Ben's school and Dalriada School in January last year.
State pathologist Jack Crane believes Ben died from Second Impact Syndrome - two heavy knocks close to each other which caused swelling in the brain.
School friends have given differing accounts of his behaviour during the match - with one claiming he was "knocked out" at an earlier stage and should have been taken off, but others saying he assured them that he was okay.
Mrs Walton said she felt uneasy.
"I wanted Ben off. I heard Ben shout 'I am not remembering this, I am not remembering playing'. I shouted at Ben 'Are you all right?' I don't believe he heard me calling him."
The referee looked over to her and told her to calm down, the inquest heard.
Mrs Walton added: "He was less than 10ft from me, he was swaying and shaking his head as if to clear it. He had his arms straight out to the side, he was staggering on his feet.
"I realised something was very wrong, that he was not engaged in play, and I shouted 'Ben, are you all right'? My son turned and said 'I don't feel right'."
Mrs Walton said at the end she saw a player on the other side of the pitch on the ground. She knew it was her son.
She ran over and he was pale and had tears in his eyes as he lay on the ground. He was making a rasping noise. His mother placed her coat over him and told him she was there.
Consultant neuropathologist Brian Herron said he believed Ben was concussed at the end of the game when Mrs Walton was talking to him.
"The other evidence does not convince me," he told the inquest.
He had particular difficulty with evidence from a schoolboy spectator that Ben was knocked out earlier in the game, pointing out that he had changed his description and had become uncomfortable when questioned.
Dr Herron said when Ben did not know the score that did not mean he had forgotten it and may have just been concentrating on the game.
He said being wobbly after a tackle was par for the course, according to other expert evidence.
The inquest continues.