Woman loses part of ear in Downpatrick attack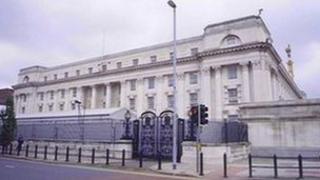 A woman lost part of her ear after she was allegedly slashed on the street in County Down.
The High Court heard that Stephen Lynch, 24, of Stream Street, Downpatrick, used a knife to inflict the wound on the victim in front of her boyfriend.
Mr Lynch denies using any weapon and insists the injury was caused by a single retaliatory punch.
He faces charges including causing grievous bodily harm with intent.
Mr Lynch is also charged with possession of an offensive weapon, and making threats to kill.
He was granted bail but banned from any contact with the woman or her partner.
The court heard how the incident happened in Downpatrick town centre on 14 May, shortly after Mr Lynch had left the police station on other matters.
Prosecution lawyer, Philip Henry, said it was alleged that the accused became involved in a row with the victim.
"Then the applicant slashed her ear with a knife he had in his possession," he said.
He disclosed that she was taken to the Ulster Hospital, but surgery failed to repair the damage and she lost part of her ear.
Defence lawyer, Paul McAlinden, stressed that no weapon was used.
He claimed his client was struck first.
According to the defence, Mr Lynch then hit her on the face, with his fist catching her earring and causing the injury.
Urging the judge to grant bail, Mr McAlinden also revealed: "The injured party in this case is now in prison.
"She is there because of a number of violent offences."
Mr Justice McLaughlin was informed that a plastic surgeon's report into the suspected cause of the injury is still awaited.
He agreed to grant bail on the basis that police were no longer objecting to Mr Lynch's release.
"These things are often best judged by police officers who have contact on the ground with the nuances of the behaviour of people and of where the truth may lie in various matters," the judge said.
Mr Lynch was subjected to a night-time curfew, banned from taking alcohol, and ordered to report to police daily.