Woman arrested following George Gray murder in east Belfast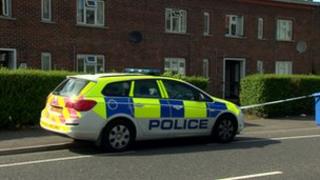 A 62-year-old woman has been arrested following the murder of a man in east Belfast.
The body of George Gray, a 52-year-old father of three, was found by a friend at his home on the Cregagh Road at about 17:30 BST on Friday.
The woman was arrested in east Belfast on Monday afternoon.
The police said Mr Gray was the victim of a vicious assault.
Two men, aged 29 and 34, who were arrested are still being questioned.
PSNI Det Insp Chris Wilson said police still needed assistance from the public.
Det Insp Wilson said Mr Gray was last seen on Thursday evening at 21:00 BST.
He added that he could not reveal any more details about the cause of death at this stage because the full details of the post mortem examination were not yet known.
The officer added: "George - known locally as Geordie - was a very quiet man who kept himself to himself, enjoyed his football and didn't go out a lot, just stayed in his flat.
"This has has been a very untimely death and I would appeal for members of the public to come forward and assist me bringing those responsible to justice."
Detectives want to hear from anyone who noticed anything suspicious on Cregagh Road, in the area known locally as Greenaway, between 21:00 on Thursday and 17:00 BST on Friday.
They also want information about a car which was seen outside Mr Gray's house around the time his body was discovered.
Det Insp Wilson said: "There was a silver Fiesta seen parked around 17:00 BST on Friday, outside the victim's address. Now, I'm looking for that person to come forward to eliminate them from my enquiry at this stage.
"They were parked half on the footpath, half on the road, and a backseat passenger was seen to get out of that car."
He appealed to the driver of the car to come forward.