NI's golden girl Bethany Firth 'over the moon' with Paralympic gold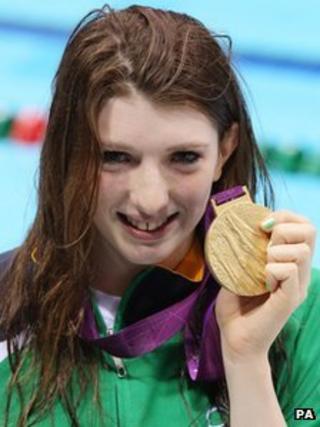 A County Down teenager is celebrating after winning a gold medal at the Paralympic Games in London.
Swimmer Bethany Firth, from Seaforde, also set a personal best as she claimed victory for Team Ireland in 100m backstroke final on Friday evening.
The 16-year-old is Northern Ireland's youngest Paralympian and took up swimming just three years ago.
Bethany, who has a learning disability, said she was "over the moon" after winning the race.
Asked how she felt about taking gold in a sport that she had only recently taken up competitively, she said: "I didn't really like water before, but I like it now."
The teenager said she became nervous when she realised she was in forth place after the 25m mark.
"I was like, Oh my word this ain't looking good, so I said I prayer and then I just kept on going".
Injury
She described her victory as "just unbelievable" and said her gold medal was "very heavy actually".
Bethany set a time of 1:08.93, despite struggling with a shoulder injury ahead of the Games.
It is the first time the teenager has competed at the Paralympics, and her family and friends have travelled to London to support her from the poolside in the Aquatic Centre.
Her mother Lindsey, said: "A few years ago she couldn't swim, now she's got a gold medal. I can't believe it".
Her father Peter said: "We weren't expecting that, we were hopeful maybe a bronze, you know, she might just sneak in there. But to go all the way and get a gold is just fantastic."
Mr Firth described Bethany as very "dedicated and committed" to her sport but the family had feared that her earlier injury might prevent her from even qualifying for the final.
"It's just unbelieveable. To pull something like that off bearing in mind the shoulder injury, not being able to get much time to exercise her arm in the pool, it's just incredible, so exciting," Mr Firth added.
"It doesn't seem to phase her - all the stress is on us."
'Proud'
Another County Down swimmer, Rostrevor's Laurence McGivern, came eighth in the 100m backstroke final.
Northern Ireland's Sports Minister, Carál Ní Chuilín, has congratulated both competitors and said Bethany's victory was "outstanding".‬
"Lawrence McGivern and Bethany Firth have much to be proud of; reaching the finals at the Paralympics is no easy feat which takes training and dedication," she said.
The minister added: "We can all be rightly proud of them both. We can all draw inspiration from their performances."
Also on Friday, Northern Ireland sprinter Jason Smyth set a new world record of 10.54 seconds in his qualifying heat for the 100m and easily booked his place in the final.