Blue moon proposal lights up Sarah and Craig's world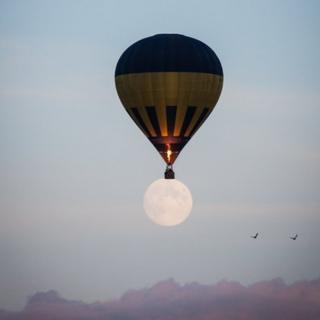 It was an out-of-this-world proposal of the kind that only comes along once in a blue moon.
Sarah Long was already over the moon on her first-ever hot air balloon trip, above Lough Erne and the Fermanagh countryside.
Then, out of the blue, boyfriend Craig Kingston got down on one knee and popped the question.
And for Craig, August's blue moon, the last one until 2015, worked its magic and Sarah said yes.
The skies over Northern Ireland had cleared in time for budding astronomers to capture images of the occasion - a blue moon is the second full moon in a single calendar month and hence is an unusual event.
Earlier, Craig, from Enniskillen, was anxiously watching the night sky for a very different reason.
He was preparing to ask one of the most important questions of his life.
He drove himself and girlfriend, Sarah Long, from Killybegs in County Donegal, to St Angelo airport in Fermanagh.
Completely unaware of what was about to happen Sarah happily boarded a hot air balloon for a trip over the scenic Fermanagh countryside and lakes.
"Neither of us had been on a balloon before," said Craig.
"I was always interested in balloons and thought it would be a nice gesture," he said.
"While we were going through the safety checks I was constantly checking that the engagement ring was in my pocket.
"After 40 minutes into the journey I asked if she knew why we were there. When she said no, I got down on my knee and said my piece".
Their romantic trip was captured by a photographer snapping the full moon from the ground, proving that if you're only going to do it once you may as well do it once in a blue moon.
Sarah said yes and is now his fiancee.