John O'Dowd launches NI review of English GCSE grades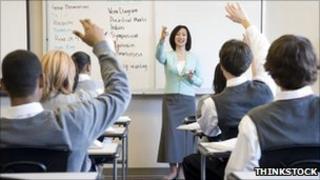 Education Minister, John O'Dowd, has asked the Northern Ireland exams regulator to carry out its own review into GCSE English grades.
England's exams watchdog, Ofqual, launched a review after it was revealed that grade boundaries for the exams were changed part way through the year.
On Friday, Ofqual said it would not order exam boards to regrade the GCSEs.
It acknowledged grade boundaries had changed from January to June, but stood by the new summer grading system.
Unhappy
Ofqual's investigation found the marking of the June exams was fair, but that the marking of exams taken earlier in the year was too generous.
It has said it will not change the results for either date but will offer early re-sits in November for students unhappy with their grades.
More than 7,000 Northern Ireland students sat their GCSE English exams with boards based in England or Wales.
There has been concern over grades awarded by the AQA exam body in England, which has the highest market share for GCSE English.
Many pupils who had been expecting a crucial C grade were given a D as a result of the mid-year changes.
'Urgency'
Earlier on Friday, Mr O'Dowd asked the NI regulator to look into the impact this may have had on students.
"I am aware that Ofqual have carried out an investigation into this issue," he said.
"However, I have asked the local regulator here to instigate a review of what has happened this year within the awarding organisation AQA, and others if needed, and to report back to me as a matter of urgency on the specific implications for students from here and what if anything can be done about the grades awarded.
"It is important that the standard of qualifications across these islands is comparable.
"It is also important that students are recognised for the work they have done and if they have reached the standard set by an awarding organisation, their efforts should be rewarded by an appropriate grade."