Parents' shock at death threat to Dr Annabel Scott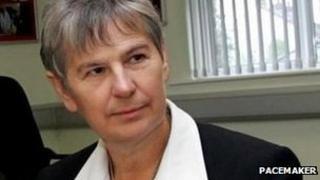 Parents who protested about the principal of a Crumlin School have said they are totally shocked that a death threat has been made against her.
Dr Annabel Scott has been warned by police to stay away from Crumlin Integrated College after the threat.
Education Minister John O'Dowd has also condemned the threat which was made in an email over a week ago.
Dr Scott returned to work in June, after a two-year suspension following a damning inspectors' report.
At that time, parents protested and asked for her removal.
However they said they did not condone the death threat and are asking whoever sent it to withdraw it.
They said they still had complaints but were tackling them through official channels.
Mr O'Dowd said the threat was "absolutely unacceptable".
"It causes great distress to the individual concerned and the wider school community at the start of a new school term," he said.
Mr O'Dowd said the police had begun an investigation and were "working with the North Eastern Education Board and school governors to ensure steps are taken to minimise the risk to any individual".
It is understood that Dr Scott is not working from the school premises and that security checks of the building are being carried out.
The board of governors at Crumlin Integrated College has sent a letter to all parents to inform them of the steps being taken to protect the safety and well-being of pupils and staff following the receipt of the threat.
Chairman Stanley Smith said: "I condemn in the strongest terms this anonymous threat against our principal and would wish to reassure the whole school community that we are working with the PSNI and North Eastern Board to ensure the safety and well-being of all.
"I would like to confirm that there has been no threat to the wider college community."
Fern Turner of the National Association of Head Teachers said the threat was being taken seriously.
"She's concerned about herself, her family and the children and staff in the school." she said.