Black Widow Sonya Thomas wants Oyster King's world crown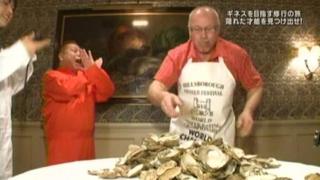 A Northern Ireland man preparing to defend his world oyster-eating title faces his toughest challenge yet; a seven-stone US woman ranked as the world's fourth-best competitive eater.
Colin Shirlow holds the world record for the most oysters eaten in three minutes, and he has won the title at the Hillsborough Oyster Festival in County Down every year since he first took part.
His main challenger this year is Sonya Thomas, known as the Black Widow, who has flown in from New York to battle for the Oyster King's crown.
While she may be petite, the secret of her success is said to be her ability to expand her stomach.
Mr Shirlow's oyster-eating career began completely by chance seven years ago but he quickly discovered he was a natural, setting a world record days after his first try.
"I'd walked into a bar in Hillsborough on a Thursday night where the Northern Ireland oyster heats were taking place, when one of the organisers grabbed me and asked if I wanted to have a go," he says.
"Before I had a chance to think, I was up at the front and I was told I had to eat 60 oysters and beat the guy next to me, who was the current Northern Ireland champion.
"The buzzer went and I had finished the 60 oysters while he was still eating his, so I was told I'd made it to the final of the World Oyster Eating Championship."
'Heavy competition'
He says he is quite competitive by nature, and this was heightened when the crowd got behind him in the final two days later.
"On the night of the final, I went in and blew the judges away - they were shaking their heads as if to say 'something has happened here'.
"One of them came over and said you've absolutely blown the record out of the water.
"The previous record was 174 or so, but I did 233."
Since then, challengers have come and gone, including the Black Widow herself.
Sonya Thomas tried to topple him from his throne three years ago, and although she won an early heat he managed to emerge victorious at the end.
"The competition really did get very heavy, but I was able to consume 230 oysters while she got 190 or so," he says.
"From listening to what she has been saying, she has been practicing and she's coming back to take the trophy back to Coney Island.
"Three years ago, she didn't step up to the plate but this year she's coming back with a vengeance."
While many people watched the Olympics and thought there was no way to achieve such feats, they may feel they could excel at competitive eating.
Indeed, Ms Thomas believes it is "the most natural sport of all".
"Everybody eats, so everyone can relate to it," she says on her website.
"To be successful you have to use the physical and mental abilities necessary to overcome the challenges that lie before you."
Anyone who wants to have a go at following in Mr Shirlow's footsteps can take part in heats on Thursday ahead of Saturday's final.
Despite the physical challenge involved, both Colin Shirlow and Sonya Thomas say they do not bother training before the big event.
Mr Shirlow says he never eats oysters apart from during the competition.
While Sonya Thomas has made something of a career out of competitive eating, trying everything from hotdogs to turducken - chicken stuffed in duck stuffed in turkey - Mr Shirlow says he has been put off from branching out into tackling other foods.
"After winning the world title, I was invited to do a demonstration at an old people's home but the woman there said she couldn't afford oysters, so I said I reckon I could eat cocktail sausages," he says.
"When I got there, they were cold and I couldn't even swallow one because they were so stodgy - I put about 15 in my mouth but it was like swallowing lard."
While oysters are reputed to have an aphrodisiac quality, Mr Shirlow remains sceptical.
"Six oysters, well, maybe yes, but not 200-odd," he says.
"I'm aiming for 75 to 80 a minute - I've got to do nearly three every two seconds to get myself near the record.
"I can put 10 in my mouth then swallow. Because they're quite slimy, they go down OK, but the only thing is they tend to come up again after the competition."
Ms Thomas says she has "a lot of respect for his talent" but adds ominously, "I am very confident in my ability".
While the County Down Oyster King says he has a healthy respect for his opponent, he says he is determined to retain his crown.
"The black widow is the female of the species - when she mates with the other spider, she kills it by eating it," he says.
"Although we are in competition together, it's purely a platonic relationship.
"I don't want her eating me; I want to fight on for another day."