Sinn Fein calls on loyal orders to reroute Donegall St parades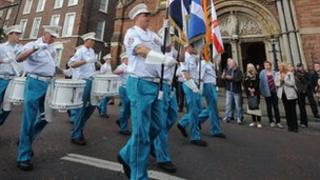 Sinn Fein has called on the loyal orders to reroute parades past a Catholic church for the remainder of the marching season.
Trouble erupted in Belfast on Saturday after the bands passed St Patrick's Church, Donegall Street, in defiance of the Parades Commission.
The Orange Order has applied to march along the street in September for the centenary of the Ulster Covenant.
Paul Maskey said the organisers needed to take the heat out of the situation.
Mr Maskey, the Sinn Fein MP for West Belfast said: "Saturday shows they cannot be trusted to parade either lawfully or respectfully.
"The Loyal Orders need to realise this, they need to take the heat out of this situation and they need to re-route themselves away from Donegall Street and St Patrick's Church for the remainder of the marching season."
Ulster Unionist Party leader, Mike Nesbitt MLA has said the growing tension over parading in Northern Ireland is a "symptom of the failure to agree a pathway to a shared future".
"We cannot continue to lurch from one crisis to the next; the problems that continue to arise over parading are clear evidence that we need a real effort to deal with it, not more sound bites," he said.
Bands defied the Parades Commission ruling not to play music while passing the church during a Royal Black Institution march on 25 August.
A number of protesters were separated from the march by a large police presence.
The Shankill Road-based Young Conway Volunteers band also defied a ruling which barred them from marching past the church.
It had been filmed walking in circles outside the same church while playing a contentious song on 12 July.
Meanwhile, Peter Osborne, the chairman of the Parades Commission, said that responsibility for parading should be a devolved matter, with local politicians determining how parades are managed.
Speaking about the trouble in Belfast at the weekend, he said: "There were clear sensitivities involved with this parade. We issued a moderate determination."
But Mr Osborne said that of about 4,000 parades held annually in Northern Ireland, the commission was involved in ruling on just 200.
"At very few of them would there be breaches," he pointed out.
"The decision the commission makes are fair and balanced."