Target Express: 390 jobs to go as firm ceases trading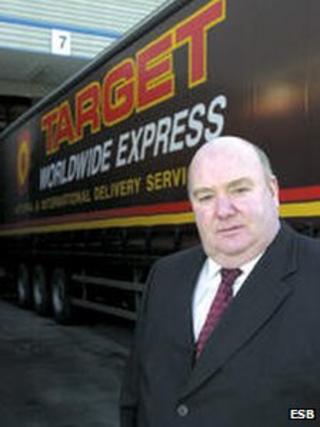 Ireland's largest privately-owned transport company, College Freight, has announced it has decided to cease trading, with almost 400 people set to lose their jobs.
The firm operates as Target Express and employs 390 staff.
Target Express was started by County Fermanagh man Seamus McBrien, and had depots in Northern Ireland, the Republic of Ireland and England.
Workers have begun sit-ins at its depots in Cork, Limerick and Carlow.
Spokesman Tom Cullen said that the workers only became aware of the company's financial situation in media reports overnight.
"We knew something was in the pipeline when our wages were not paid Saturday but we gave them the benefit of the doubt, then out of nowhere we hear on the news they are in talks with Inland Revenue," he said.
"We were given no indication from management that something was going on and we have not heard anything yet from the owner, Seamus McBrien."
"We've been here since 7am this morning and we will stay here until this is sorted. If this was a big multinational you can be sure the government would be meet representatives and there would be dialogue, but at the moment there is nothing."
Savings
Target Express owner, Mr McBrien told Newstalk, an independent radio station in the Irish Republic, that he and his wife would possibly be "walking up to the dole office themselves".
The 61-year-old said he had been working in the business for 40 years and had owned Target Express for 24 years.
"We gave everything personally to make it work, we put in our savings, we put in our pensions," he said.
It is understood the Revenue Commissioners in the Irish Republic placed attachments on the company's bank accounts last Friday.
Despite ongoing negotiations, the issues could not be resolved.
"On Wednesday, I think we told them we would pay them on Friday," Mr McBrien told the breakfast programme.
"On Thursday they had put an attachment on our account and we couldn't pay our wages. Any money going into our bank account was being frozen," he added.
Job hopes
Irish Transport Minister Leo Varadkar said his office had been in contact with the Revenue Commissioners.
"My office was in touch with the Revenue Commissioners but was unable to pass on the concerns in the absence of the company waiving confidentiality, which it has not done," he said.
"All taxpayers have an obligation to pay their taxes. I remain hopeful that some or all of the jobs can be rescued."
Revenue also told the BBC it was unable to comment on the tax affairs of any particular business or individual.
Chairman Josephine Feehily said: "We want to help viable businesses and taxpayers who want to pay their taxes but can't in the short term".
"We can, and do, put alternative payment arrangements in place to help such customers through difficult periods...But businesses and individuals must engage with us at the earliest possible opportunity and this engagement must be realistic.
"Revenue is not a lender of last resort and we have a duty to ensure that all our customers operate on a level playing field and all tax due is paid."
College Freight did not confirm the scale of the debt to the Revenue Commissioners, but it is understood to be less than 1m euros.
Irish broadcaster RTE reported that it was unclear whether the company will seek the appointment of a receiver, which could lead to the sale of the company as a going concern with at least some of the jobs being saved.
The company's management expressed its "deep regret" at the decision to cease trading, and thanked staff and customers for their support over the past 24 years.
Target has been the main sponsor of the Tyrone Gaelic football team, which said it thanked the company for its support over the last three years.