Consultation opens on future of European peace money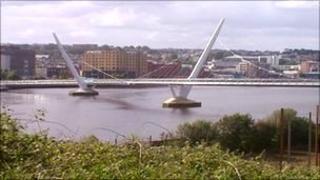 The public are being asked how they believe any future European Peace money should be spent.
Since 1995 Northern Ireland and the Irish border counties have benefited from around £1.35bn in funding
Some of the biggest projects to benefit include the Peace Bridge across the River Foyle and the proposed new Conflict Transformation centre at the Maze.
The consultation is open from Tuesday until 20 November 2012.
As well as the big projects, many voluntary community groups have also come to depend on EU funding.
The current Peace III programme and another inter regional programme are due to end next year.
A further Peace IV programme, covering the period 2014-2020 has not yet been agreed.
The Chief Executive of the Special European Union Programme Body, Pat Colgan, told the BBC the fact that the UK and Irish governments have given the go ahead for a consultation about how any cash should be spent is a strong indication there's a political commitment to extend the peace funding.
Ten public meetings will be held at venues across Northern Ireland, the Irish border counties and Scotland, which benefits from the inter regional programme.