Urgent talks called after Belfast parade trouble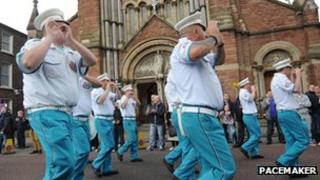 Politicians and church leaders have called for urgent talks after disturbances in Belfast on Saturday during a Royal Black Institution march.
Trouble erupted after bands defied restrictions put in place by the Parades Commission.
The bands were not allowed to play music while passing St Patrick's Catholic Church on Donegall Street.
A number of protesters were separated from the march by a large police presence.
The Shankill Road-based Young Conway Volunteers band also defied a ruling which barred them from marching past the church.
It had been filmed walking in circles outside the same church while playing a contentious song on 12 July.
Sinn Fein North Belfast MLA Caral Ni Chuilin said a solution needed to be found.
"Every person on that protest was a resident, they were mass-goers. They were grannies and mothers - not dissidents," she said.
"The loyal orders need to talk to residents and need to show mutual respect."
She said she was prepared to sit down with Winston Irvine from the North and West Belfast Parades Forum.
However, Mr Irvine said he and Ms Ni Chuilin had already both been "around the same table talking to residents, senior republicans, Sinn Fein elected representatives and parade organisers.
He added that he believed that Saturday's disturbances were "some time in the coming".
'Bias'
"It is reflective and does represent the majority of unionist opinion," he added.
"I think the Parades Commission has shown a bias against the unionist culture, they have produced determination after determination which has increased restrictions and the severity of restrictions."
Administrator of St Patrick's Church, Fr Michael Sheehan, said what happened on Saturday was "disappointing and very sad".
"There seemed to be a lot of anger and rage that there was so much disrespect shown to our place of worship," he said.
"Parishioners are very angry that we have become a flashpoint for another area of contention."
Mr Irvine responded by saying: "It saddens me that the parish priest feels that way."
Reverend Lesley Carroll from Fortwilliam and McCrory Presbyterian Church in north Belfast said she supported the Parades Commission ruling.
"The Parades Commission is there because we haven't been able to manage this difficult situation without some kind of mechanism," she said.
"Clearly that mechanism isn't working for everybody but nevertheless it is the only existing mechanism of its time. It is a legally constituted body and its rulings should be observed."
The BBC contacted the Parades Commission but no-one was available for interview.