Man charged following Belfast parade trouble is refused bail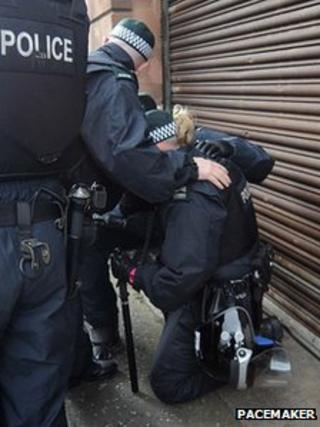 A man from Scotland has appeared in court charged in connection with trouble at a parade in Belfast on Saturday.
James Boyce, 38, from Ben Vorlick Drive in Glasgow, was charged with disorderly behaviour.
He was also charged with running through a protest with intent to provoke a breach of the peace.
The accused travels to Northern Ireland about four times a year to attend and take part in parades, the court heard.
A detective opposed bail on the grounds that there was a risk the accused would not turn up for future court appearances.
She also said the police had concerns about the possibility of re-offending and that there were more contentious parades scheduled for September.
Appearing at Belfast Magistrates Court, defence lawyer said Mr Boyce's time in custody had been traumatic for him and his family.
He also said the accused would lose his job if he was not given bail, however the district judge refused bail and remanded Mr Boyce in custody for four weeks.