Fake Facebook voucher offer scam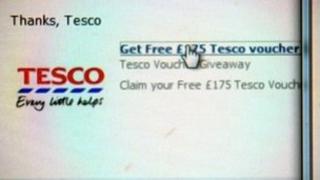 If you see a post on a friend's Facebook page offering you a £175 Tesco voucher, and think it's too good to be true - it is.
You are invited to share the offer on your Facebook page, and post the comment 'Thanks Tesco'.
The page that pops up when you click to claim the fake offer contains Tesco's logo, branding and company slogan.
But after posting to your own Facebook page, you are automatically redirected to another website.
Warned off
If you have anti-virus software, this is where you may be warned off.
But dozens of people have fallen for the sophisticated scam.
Dr Kevin Curran, who is a computing expert at the University of Ulster, says that scams that operate through social networking sites are on the rise.
This is because email filters are so good now that scammers don't often have success in that field.
So they're trying to use social media to reach people.
Dr Curran says: "Scammers can make money from the third party online surveys, where they get people to go to these pages and get money for each survey completed.
"They can also drive people to websites where they display their own ads.
"Or they can try to direct you to a website where you download software that can do worse things to your computer - and then they can get your personal details."
But the social networking sites are working hard to detect scammers.
Wary
Tesco say they're working with Facebook and other web firms to remove scams like this from the internet.
They say protecting customers is their "number one priority", and they alert people to scams that illegally use the company's name as soon as possible.
They've been issuing warnings on their website and official Facebook page.
The Trading Standards Service in Northern Ireland say they have not received any complaints or inquiries about this particular scam.
But they're advising people to be wary of any offer from a major retailer which has not been sent directly from that retailer - because genuine supermarket vouchers are normally sent by post or given out in stores.
And IT experts are reminding people to make sure their anti-virus software is kept up-to-date..